My precious little guy is 14 months old! I can't believe it...truly! I am still sticking to my belief that this is my favorite age! He is just such a joy and melts my heart continuously!
Bum Bum Bum, Bum Bum Bum (Rocky theme)
He had his check-up last week and while he is doing great on most things, we got "dinged" that he was not walking yet. We are not new to this game either, Mia was very similar in her development. The doctor told me to "Cue the Rocky Music" and let the training begin. So I added some felt pads to his walker and he is off to the races. The pads slowed it down just enough that he feels like he has a lot more control. We have one month, and then it is ECI for us. Pray for my commitment to this project and his ability if you think about us! I think we can make it!
His stats: Weight 20th percentile, Height 50th percentile, and Head 95th percentile. Does that sound like anyone else we know...maybe his daddy???
He has SO much to say and is a little chatter box just like the rest of his gene pool! He says "tease" (please) for everything and expects to have his request granted when he goes to such trouble to be polite. He has started throwing fits, but they are still just humorous. His resolve is not too strong yet!
He is doing well on his egg therapy and we have his skin and asthma under control. Yeah!!!
In other news...I am thrilled to be participating in the Craftaholics Anonymous Craft Room Inspiration Week. Check out my post today and the other great rooms being featured this week! Linda's blog is fantastic!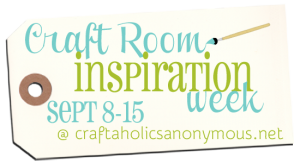 Happy Tuesday, crafters! Welcome to Day #2 of the Craft Room Inspiration Week on Craftaholics Anonymous! Today Jennifer is here to show off her pretty green, blue, and white crafting space. Enjoy! linda